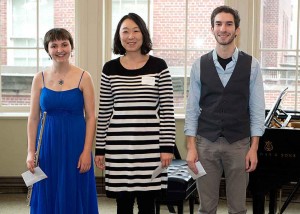 Composition Competition 2014
The New York Flute Club is pleased to present the winners of the 2014 Composition Competition. They were chosen from a field of 80 entries, written by composers from nine countries, including Armenia, Australia, Egypt, Norway, and Poland, and from all over the United States. The winning works were performed in recital at the 2015 Flute Fair on March 15, 2015, and the composers were awarded cash prizes totaling $3000.
After two rounds of deliberation, the winners were:
 1st Prize: the Bath Clown Duo by Scott Rubin

Written for acoustic and electroacoustic media, the music of American composer Scott Rubin combines intuitive adventures with efforts investigating the peculiarities of auditory cognition, psychological anomalies, and physical movement. Rubin's music has been performed and read in the United States, Canada, Colombia, and France by the Nouvel Ensemble Moderne, Ensemble Parmirabo, Quasar Quatour de saxophones, Eco Ensemble, Splinter Reeds, Meitar Ensemble, TAK Ensemble, cellist Juan Sebastian Delgado, Ensemble Transmission, the Estrella Consort, the McGill University Contemporary Music Ensemble, Ensemble Arkea, and the University of Illinois New Music Ensemble. Scott Rubin is currently a PhD student at the University of California at Berkeley, where he studies with Franck Bedrossian, Edmund Campion, Cindy Cox, and Ken Ueno. He recently earned his masters degree studying with Philippe Leroux at McGill University, where he co-founded and co-organized the Montréal Contemporary Music Lab.
Please visit www.scottrubinmusic.com to purchase a copy of this work.
---
2nd Prize:  Credo by Heeyoung Yang

Inspired by diverse cultural backgrouns, Heeyoung Yang has been actively composing a variety of music with a wide spectrum, which crosses multiple dimensions: the East and the West, the old and the new, the irrational and the logic, and the sacred and the secular. Such cross-cultural components are naturally embedded in her approach on musical language, timbre, intonation, lyric, pulsation, time and expression. These ingredients enable Yang's music to deliberately touch audiences by a unique way of delivering the tradition of Korean and Western music in a contemporary form and by a lyrical and imaginative story-telling of her own thoughts and faith. Originally from South Korea, she received both her DMA and MM in music composition from the College-Conservatory of Music at the University of Cincinnati.
Please visit heeyoungyang@gmail.com to purchase a copy of this work.        
---
3rd Prize:  They Move with No One Watching: Dances by Nadine Dyskant-Miller

Nadine Dyskant-Miller is a composer and performer from western New York State. In addition to classical composition and flute performance, she spends a significant amount of time improvising with various groups, including the Suburban Piano Quartet-- a new performance ensemble that uses elements from music, spoken word, dance, theater, and the visual arts to create a variety of performance situations-- of which she is a founding member. Ms. Dyskant-Miller also plays traditional music from Québec, Ireland, and New England, and performs for contra dances and festivals throughout the northeastern US. She studied at the University of Michigan, where she studied composition with Kristin Kuster and flute with Amy Porter.  This winning work was also featured at the 2015 NFA Convention in Washington DC in a Spotlight Recital, performed by Amy Porter.
This work can be purchased at fluteworld.com.
---
Many thanks to our judges
First round: Kelli Kathman, Margaret Lancaster, Kathleen Nester, Jayn Rosenfeld, Stefani Starin,
   and Patricia Zuber
Final round: Paul Lustig Dunkel, Margaret Kampmeier, and Zara Lawler
And, thanks, most of all, to all the composers who entered the competition. 
 
---

Back to Composition Competition