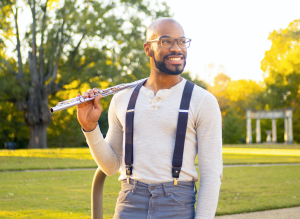 Date & Time
Friday, March 10, 2023 - 7:30pm
Location
Merkin Hall
129 West 67th Street
New York, NY 10023
Adam W. Sadberry: Musical Journalism: Continuing a Legacy through the Flute
Co-presented by Concert Artists Guild and Kaufman Music Center in Merkin Hall. 

This concert is inspired by Adam W. Sadberry's late grandfather and unsung hero of the Civil Rights Movement, L. Alex Wilson, whose work as an editor and journalist changed the world through covering pivotal Civil Rights events.

In this concert, Adam collaborates with pianist Artina McCain and dancer/choreographer Ayo Jackson, intertwining music and dance with the articles he collected from the archives of the Tri-State Defender, the newspaper of which his grandfather was editor and manager. The program will also feature the world premiere of a commissioned work titled "_not running. (The Life of L. Alex Wilson)" by Dameun Strange. 

Purchase tickets here. 

Join us for a reception after the concert!

Back to Calendar