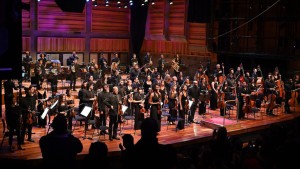 Date & Time
Monday, March 20, 2023 - 7:30pm
Location
 Wu Tsai Theater, David Geffen Hall, Lincoln Center
Chineke! Orchestra
Co-presented by Lincoln Center for the Performing Arts, the New York Philharmonic and The Juilliard School
Europe's first majority-Black and ethnically diverse orchestra, Chineke! Orchestra was founded with the intention of providing opportunities for composers and performers of color in a field that traditionally minimizes Black participants. The orchestra's Lincoln Center debut (part of their premiere North American tour), presented in partnership with the New York Philharmonic and The Juilliard School, offers a bravura selection of thought-provoking works led by guest conductor Andrew Grams of the Elgin Symphony Orchestra. The program will include the trailblazing 20th-century composer Florence B. Price's Symphony No. 1; Mozart's Clarinet Concerto, featuring NY Phil Principal Clarinet Anthony McGill; and Fate Now Conquers by the contemporary American composer Carlos Simon.
PROGRAM
FLORENCE B. PRICE: Symphony No. 1
W.A. MOZART: Clarinet Concerto
CARLOS SIMON: Fate Now Conquers
Tickets (including pay what you wish rush) and information here.

Back to Calendar