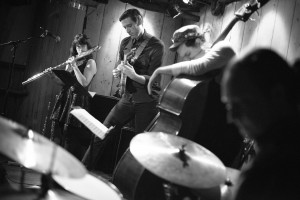 Date & Time
Wednesday, December 12, 2018 - 8:00pm
Location
Cornelia Street Cafe, 29 Cornelia Street, New York, NY
Special Lucia Celebration with the Elsa Nilsson Quartet
For the 5th year running Swedish/American flutist Elsa Nilsson and her Quartet will bring you their modern version of the traditional Swedish Lucia Celebration. This year the performance will be held at Cornelia Street Cafe on Wednesday December 12th at 8 pm. This uniquely Swedish holiday celebrates the return of light during the darkest time of the year. Nilsson and her Quartet will put their own unique spin on the traditional music drawing from Balkan, Argentinian, Brazilian, Syrian and North African influences with gingerbread cookies and glitter for everyone!
New York City based Swedish/American Flutist and composer Elsa Nilsson approaches music with an attitude of inclusiveness. She believes there is a space to be found in music that gives us the freedom to be exactly who we are, with no pretending and no hiding. The lines between styles become blurred and rules get bent in order to communicate the raw emotion and human moments that tie us all together, creating a deeply personal expression  through the lens of Jazz that she hopes is universally relatable. Nilsson is the winner of the 2018 NFA Jazz Flute Competition and holds a BM from Cornish College of The Arts and an MM from NYU.
Each member of the band brings his or her own flavor to the music. With Nilsson leading on flute, this band also features Jeff McLaughlin on Guitar, Alex Minier on Bass, and Cody Rahn on Drums and Percussion.
"One of the most dynamic bandleaders in the New York jazz scene."
-Nick Dunston, Hot House Jazz Magazine
"Elsa has a beautiful conception of music."  -Chris Potter, renowned jazz saxophonist
"With an undercurrent of healing music running through it that you don't realize is not only good but good for you, this sprightly, winning set goes the distance with gas to spare." -Midwest Record
www.elsanilssonmusic.com
DETAILS:
WHO:       Elsa Nilsson Quartet
WHEN:     Wednesday, December 12th, 8 pm
WHERE:   Cornelia Street Cafe, 29 Cornelia Street, New York, NY
COST:      $10 cover, $10 minimum. Reservations at 212.989.9319

Back to Calendar