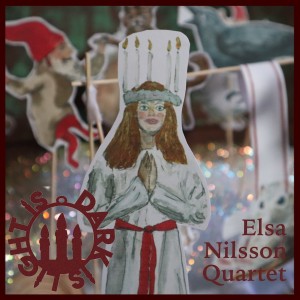 Date & Time
Tuesday, December 14, 2021 - 6:30pm
Location
The 55 bar, 55 Christopher street, New York, NY
Swedish Holiday Celebration
For the 9th year running Swedish/American flutist Elsa Nilsson and her Quartet will bring you their modern version of the traditional Swedish Lucia Celebration. This year the performance will be an Album Release concert for the record they released in December of 2020 titled "Dark Is Light Is" and will be held at The 55 bar on December 14th at 6.30-8.30 pm. This uniquely Swedish holiday celebrates the return of light during the darkest time of the year. Nilsson and her Quartet will put their own unique spin on the traditional music drawing from Balkan, Argentinian, Brazilian, Syrian and North African influences with gingerbread cookies and glitter for everyone!
"Dark Is Light Is" got a beautiful review in The New York Jazz Record (page 17), Free Jazz Blog, Textura and was featured in the Jazziz 10 Albums You Need To Know December 2020 as well as their New Releases Cheat Sheet along with Bernstein Reimagined and Yo-Yo Ma. 
Each member of the band brings his or her own flavor to the music. With Nilsson leading on flute, this band also features Jeff McLaughlin on Guitar, Alex Minier on Bass, and Cody Rahn on Drums and Percussion. 
"One of the most dynamic bandleaders in the New York jazz scene."
-Nick Dunston, Hot House Jazz Magazine
"She is the logical choice to provide a next step for her instrument in the world of jazz and improvised music" Paul Rauch of All About Jazz
"Elsa has a beautiful conception of music."  -Chris Potter, renowned jazz saxophonist
"With an undercurrent of healing music running through it that you don't realize is not only good but good for you, this sprightly, winning set goes the distance with gas to spare." -Midwest Record
www.elsanilssonmusic.com
DETAILS:
WHO:       Elsa Nilsson Quartet
WHEN:    Tuesday, December 14th, 6.30-8.30
WHERE:   the 55 bar
COST:      $5 at door, 2 drink minimum, cash only

Back to Calendar