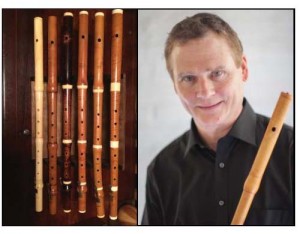 Date & Time
Saturday, October 16, 2021 - 6:30pm
Location
---
Christ Church
254 E Putnam Ave.
Greenwich CT
"The Cahusac Connection" Richard Wyton, flute
"The Cahusac Connection"
an evening with The Hanoverian Ensemble
Richard Wyton, flute            Lisa Rautenberg, violin         Arthur Fiacco, cello
Jonathan Vaughn, organ & harpsichord
Music by Handel, Haydn, Stanley and Telemann  performed on original flutes from the eighteenth-century workshop of Thomas Cahusac (1714-1796), one of the greatest woodwind makers of 18th-century England. The largely-English  program draws from works very likely played on these particular instruments in the eighteenth-century. Performing are Richard Wyton, flute; Lisa Rautenberg, violin; Jonathan Vaughn, organ and Arthur Fiacco, cello.
The flutes for this program are generously lent from the collection of Mark Leone, a prominent American collector and conservator of historical flutes.
This concert is dedicated to the Reverend Canon Sydney Woodd-Cahusac (1918 - 2004). A beloved member of the Christ Church Clergy, the Greenwich community and a direct descendant of Thomas Cahusac, Sydney is the "Cahusac Connection".
The 7:00 program is preceeded at 6:30 by a conversation with Mark Leone, John Solum - author of The Early Flute (Oxford University Press) and Richard Wyton.
For further information & tickets, paste the link below into your web browser:
https://community-concerts-of-greenwich.square.site/?fbclid=IwAR1CvSiy6z-Cv9E2jCqb6EJzH3dkguc20gDEQCCmr4nmjQ5GO98tZ5eIMFM
_____________
Program
   "To Anacreon in Heaven"                       Trad.
       solo flute                                             from Cahusac's Pocket Companion
                                                                  for the German Flute
   Solo in G Major Op.4 No.6                    John Stanley
       flute & organ                                       1712-1786
        Siciliana
        Allegro
        Menuet & 2 variations
    
    Fantasy in B Minor TWV 40: 4              Georg Philipp Telemann
       solo flute                                             1681-1767
        Largo,Vivace, Largo,Vivace
        Allegro
        
    Sonata in G Major TWV 40: III              Telemann
       flute & violin
        Dolce
        Scherzando
        Largo e Misurato
        Vivace Staccato    
    Trio in C Major Op. 100 No.3                Joseph Haydn
       flute, violin & cello                              (1732-1809)
        Allegro moderato                 
        Poco Adagio
        Presto
    Trio Sonata in F Major Op. 2 No.4        George Friedrich Handel
       flute, violin & basso continuo              (1685-1759)
        Larghetto                 
        Allegro
        Adagio
        Allegro
        Allegro

Back to Calendar