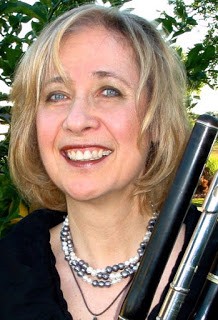 Date & Time
Sunday, November 6, 2016 - 5:30pm
Location
Engelman Recital Hall
Baruch Performing Arts Center
55 Lexington Avenue
  (entrance on E. 25th Street)
New York, New York
Adrianne Greenbaum, flute
Pete Rushefsky, cimbalom
Dianne Frazer, piano
---
Pre-concert workshop at 4:00 pm 
Baroque and Klezmer Improvisation: They're a lot alike!
Dances of Old
    Polonaise
    Polonaise and Badinerie, BWV 1067
    Polonaise: Farewell to the Homeland
    Hungaricus No. 34

Uhrovska Collection of 1730
J.S. Bach (1685-1750)
Michal Oginski (1756-1833)
Uhrovska Collection
The Fantasy
    Fantaisie in A Major
    Kaddishe Fantaisie

G.P. Telemann (1681-1767)
Adrianne Greenbaum (b. 1948)
Klezmer!
    Doyna in E Minor/Boyberiker Hora
    Rivkele's Hora
    Freylekhs
    Patch Tants
    Nign
    Op Tsu Spiln a Khosn
    Freylekhs in D Minor
    Hungarian Freylekhs

Adrianne Greenbaum/Traditional
Adrianne Greenbaum
Goldensteyn Folio
Adrianne Greenbaum/Traditional
from Dinow, Poland
Frant Folio
Frant Folio
Traditional
For Pure Enjoyment
    Someone to Watch Over Me
    Chaskel's Caledonia Polka
    Hungarian Pastoral Fantasy, Op. 26

George Gershwin (1898-1937)
Frant Folio
Franz Doppler (1821-1883)

Program subject to change.
---
Admission: Free to NYFC members, $25 for non-members, $15 for students and seniors (65+) at the door.
---
Flutist Adrianne Greenbaum's career as an early music specialist, orchestral and chamber player, teacher/professor/mentor, composer and arranger, and revivalist/purveyor of the klezmer flute tradition, spans nearly five decades. She has toured extensively in the US and  Europe with her ensemble FleytMuzik, performing on wood flutes from the 18th and 19th centuries, and Boehm system flutes when the klezmer repertoire is too much to navigate with simple system flutes.
As a performer and educator, Ms. Greenbaum has given workshops and concerts in Dusseldorf, Paris, Vienna, Poland, Scotland, Germany, and throughout the US. Masterclasses have focused on baroque and simple jazz improvisation techniques and include The Baroque Fantasy and the Art of Preluding. Teaching residencies include Klezkamp, Boxwood, KlezmerQuerque, Klezkanada, New Horizons, and NEMC. Ms. Greenbaum can be heard on her award-winning FleytMuzik (3rd release in July 2016) and Klezical Tradition klezmer albums, and her classical record Sounds of America.
Ms. Greenbaum was solo flutist with the New Haven Symphony (37 years) and Orchestra New England (30 years) and is currently professor of music at Mount Holyoke College, where she directs her own summer week of World Chamber Music and Improv camp. Her degrees are from Oberlin (BM) and Yale (MM) and she lives and has a private studio in Fairfield, CT.

Back to Calendar