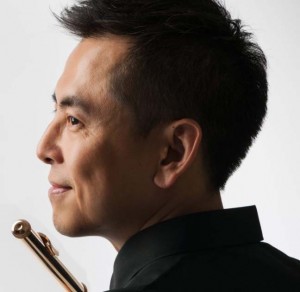 Date & Time
Thursday, December 16, 2021 - 7:00pm
Etudes with Jin Ta
The December installment of the NYFC's "I Just Wanna Play!" Series: Andersen Etudes with a Christmas Twist
Jin Ta, principal flute of the Singapore Symphony Orchestra (SSO), will present a class on Andersen's Op. 15 etudes, Nos. 1, 3, 4, 9, and 12. This class will be useful to flutists at every level and will focus on breathing, finger control, and more. You just want to play with Jin Ta!
Estimated duration: 45 minutes
Watch this space for links to supplementary materials:
ISMLP pdf of the Op. 15 etudes to be covered in the class
YouTube video:
---
Flutist, educator, and composer Jin Ta has been principal flute in the SSO since 1998. After completing his studies at the Central Music Conservatory (Beijing) with Zhu Tong De, he entered the University of Michigan on a full scholarship in 1991. In 1995, he studied with Fenwick Smith at the New England Conservatory of Music and was selected as an Artist Diploma candidate in 1997. During the eight years he spent in the US, Jin Ta won numerous flute competitions including the NFA Young Artist Competition in 1995 and the James Pappoutsakis Memorial Flute Competition in 1996.
Jin Ta has taught at the Nanyang Academy of Fine Arts (NAFA) and LaSalle College of the Arts and frequently gives talks and masterclasses in China, Taiwan, Thailand, and South Korea. He is also a founding faculty member of the Yong Siew Toh Conservatory of Music (National University of Singapore). His students are now working in many professional orchestras in China, Taiwan and Korea. Jin Ta is also a self-taught composer and has published a number of works such as his First Flute Sonata, and Second Sonata, Mongol. 
During the COVID-19 "circuit breaker" period, he and his wife Yu Jing (SSO associate principal cello) created a flute education WeChat channel "Lumino's Art of Flute" with free online flute lessons (for both college level students and young flutists) and musical stories for children.
For more about Jin Ta: https://www.sso.org.sg/about/singapore-symphony-orchestra/the-orchestra/jin-ta
---

Back to Calendar