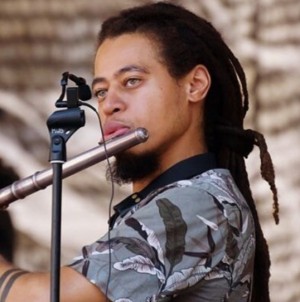 Date & Time
Thursday, January 20, 2022 - 7:00pm
Irwin Hall, alto flute
The January installment of the NYFC's "I Just Wanna Play!" Series
Why do jazz musicians and doublers like the alto flute so much? Irwin Hall will showcase the reasons why, provide tips for potential doublers, and discuss the problematic third octave and why jazz musicians actually like it. In addition, he will describe how improvisation requires (i) getting comfortable playing without music and (ii) applying music theory in real time. Also touched upon will be the blues (form and approach), the root starting point for all discussions about improvisation. There will be opportunities to play and try out some of the concepts, so have your flutes at the ready. People with questions relevant to Irwin's expertise in doubling, alto flute, and/or improvisation are invited to forward them to Irwin (irwinhallmusic@gmail.com) in advance of the event for possible inclusion as discussion topics.
Estimated duration: 45 minutes
Watch this space for connection details and links to supplementary materials.
YouTube video: 
---
Irwin Hall got his start in music at age nine when he won a lottery in school and was gifted an alto saxophone. By age 11 he was on stage performing professionally and began winning state and national competitions. Irwin attended Princeton University on a full ride to study East Asian philosophy. He learned Japanese and after graduating began work at a major Japanese newspaper in Tokyo. As fate would have it, he ran into songstress Melody Gardot backstage at the Tokyo Jazz Festival. She heard him play and immediately hired him to tour with her band. He quit his job and went on back-to-back international tours as her featured soloist.
Soon after he caught the ear of three-time Grammy/Tony Award winning NEA Jazz Master Dee Dee Bridgewater and joined her working band, honing his skills under the master vocalist on saxophone, flute, and bass clarinet. His woodwind work is featured on the Grammy-nominated album Star People Nation by trumpeter Theo Croker, and he has toured extensively with Grammy-nominated vocalist Jazzmeia Horn and bass virtuoso Charnett Moffett, among many others. Irwin now leads his own band, Irwin Hall Organ Trio, and continues to perform in cities around the world including London, Tokyo, Shanghai, Rio, Prague, New York, Paris, and Melbourne.
For more about Irwin Hall: https://www.irwinhall.com/
---

Back to Calendar