The New York Flute Club sponsors:
Members enjoy:
Free admission and two guest tickets to monthly concerts
Ensemble program
Access to extensive member directory
Free listing of members' events in our online and newsletter calendars
Monthly newsletter 
Welcome to The New York Flute Club
All flute lovers (yes, that's you!) are invited to our annual Flute Fair, which has something for everyone, including kids: concerts, competitions, workshops, exhibits, a table and tag sale, and even a raffle for a free flute lesson.
This year's very special gala concert artist is Claire Chase, the winner of a 2012 McArthur Foundation fellowship for arts entrepreneurship (a "Genius Grant"), a soloist, collaborative artist, and activist for new music. Chase was first prize winner in the 2008 Concert Artists Guild International Competition and co-founded the International Contemporary Ensemble (ICE). After the concert, join us for a meet-and-greet with Claire.
The Fair will also feature the annual New York Flute Club Competition and winners of the New York Flute Club Young Musicians Contest and Composition Competition.
The Fair will be held at the Faculty House at Columbia University from 8:30am-8:30pm. Visit our Flute Fair page for detailed information on events, admission fees and location. For the schedule, click here. See you at the Fair.
Thank you to Steinway & Sons for donating the pianos at the 2015 Flute Fair.
Our Flute Fair Presenters
Take a look at who's presenting at the Fair this year for an idea of the array of events that will be held.

---
Our 2014-2015 Season
Our 2014-15 season proudly features concerts and classes with Emma Resmini, Mark Sparks, Paul Dunkel, Katherine Fink, piccoloist Jean-Louis Beaumadier, and jazz flutist, Nicole Mitchell. The Flute Fair, "Chasing Your Dream," highlights the artistry of the MacArthur "Genius" Award recipient, Claire Chase. 
---
Become a Member
The New York Flute Club offers our Ensemble Program,  Education & Enrichment Program, and our annual competitions.
You can join or renew your membership online and, with membership, be able to access our current newsletters, view ourmembership directory, edit your profile, and list your upcoming concerts in Member Events. More member benefits are listed on our membership registration page.
---
News and Updates
-  We have our winners for the 2015 New York Flute Club Competition held on March 15 at the Flute Fair. Congratulations to each winner:
    1st Place:   David Ordovskiy
    2nd Place: Julie Lee
    3rd Place: Giorgio Consolati
-  Congratulations to the winners of the Young Musicians Contest held March 8. Come hear the winners perform his or her audition piece in a concert at the New York Flute Fair on March 15 at 2pm.
    Winners.  Age 8 and Under: William M. Garitty.  Age 9-11: Sophie Malagraph.  Age 12-14: Sean Marron.  Age 15-17: Jamie Morein.
    Honorable Mention: Age 9-11: Eunhye Choi. Age 12-14: Nadira Novruzov and Grace Helmke. Age 15-17: Jonah Murphy and
     Francesca Moorman
- We are happy to announce that The New York Flute Club Competition First Prize is sponsored by the Flute Center of New York.  We thank Phil Unger for his ongoing contributions to the flute community of New York.
- 2014 Composition Competition Winners. The New York Flute Club is very pleased to announce the results of the 2014 Composition Competition. We received 80 entries from nine countries and from all over the United States and were excited by the diverse and inspiring array of creative work for flute and piano.  The compositions selected for prizes and to be featured at the 2015 New York Flute Fair on March 2015 are:
         1st prize:   the Bath Clown Duo by Scott Rubin
         2nd prize: Credo by Heeyoung Yang
         3rd prize: They Move with No One Watching: Dances by Nadine Dyskant-Miller
---
Our Mission
The New York Flute Club, Inc. is a not-for-profit organization dedicated to the advancement of flute playing and the appreciation of flute music. It provides a common meeting ground for professional, student, and amateur flutists and offers performance opportunities for flutists and composers. We welcome as members musicians and music lovers who are interested in the flute and flute music. Founded in1920 by eminent flutist Georges Barrère, composer Lamar Stringfield, and a group of their associates, The New York Flute Club is the oldest such organization in the United States. Hear Georges Barrère in 1941 playing a transcription of the gamelan piece Lagu Ardja by Colin McPhee.
Upcoming Events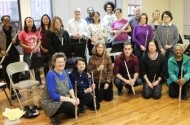 Saturday, April 11, 2015
Ensemble Program - April
For more info.
Saturday, May 2, 2015
Ensemble Program - May
For more info.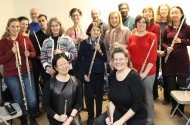 Saturday, May 30, 2015
Annual Meeting & Ensemble Concert
For more info.
View the full calendar of events