The New York Flute Club sponsors:
Members enjoy:
Free admission and two guest tickets to monthly concerts
Ensemble program
Access to extensive member directory
Free listing of members' events in our online and newsletter calendars
Monthly newsletter 
Welcome to The New York Flute Club
To Our Members and Friends
The New York Flute Club is pleased to announce that our annual Flute Fair will be held on Sunday, March 16. Titled "The Magic Flutes," the fair will feature the flutists of The Metropolitan Opera, Denis Bouriakov, Stefan Ragnar Hoskuldsson, Stephanie Mortimore, and Maron Khoury. Other highlights include:
- A concert by the associate and extra musicians of the MET
- A special strand of piccolo programs, including "Pick up the Piccolo," for players new to the instrument
- A masterclass with Denis Bouriakov, Stefan Ragnar Hoskuldsson, and Stephanie Mortimore
- Workshops on yoga, exercise, and the music busines
- Student ensembles and flute choirs
As always, the day will include the NY Flute Club Competition, industry exhibits, and a variety of activities for flutists of all ages. Flutists can pre-register either online or by mail.  A printable brochure is available. Be sure to note the special teacher-student discount, available by pre-registration only.
New York Flute Fair 2014: The Magic Flutes
When:  Sunday, March 16, 2014, 8:00am-7:30 pm
Where: The Lighthouse, 111 East 59th Street (between Lexington & Park Avenues), 
             New York City
White Elephant Sale. Here's your opportunity to clean your closets and contribute unwanted flute-related items for the benefit of the Club—and maybe find some gems for yourself. Please bring to the Fair music, books, flute-playing figurines and collectibles, artwork and posters, CDs and LPs, musical jewelry, old concert programs and photographs, flute tools and gadgets. All items will be priced to sell, and all proceeds will be used to support the Club's education and other programs; we will provide receipts for tax purposes. If you have questions, contact Nancy Toff.
---

The 2014 Flute Fair, "The Magic Flutes," features the fabulous flutists of the Metropolitan Opera Orchestra. For the Gala Concert, Denis Bouriakov, Stefán Höskuldsson, Maron Khoury, and Stephanie Mortimore have selected a program that will showcase their individual artistry. The New York Artists Concert will feature the associate and extra players at the Met: Koren McCaffrey, Erin Jang, Yevgeny Faniuk, and Pat Zuber.  For a complete listing of events, see the Fair's schedule.
Interviews with the Met Flutists
Watch this two-part round table video interview created for the NYFC by Michael Parloff, retired 30-year Met principal flutist.
Part 1: Biographies. Topics include the flutists' geogra-phically diverse backgrounds, early musical training, practice habits, and persistence in the face of discouragement.
 Part 2: Life at the Met. "Shop talk" stories and conversation about the special challenges and rewards in being an opera flutist. 
 
---
---
News and Updates
- We're proud to announce the winners of the Young Musicians Concert held on February 23.  Congratulations to each of them for their fine performances.
- Hear videos and see photos from Ian Clarke's February 2 workshop and concert.  In the workshop, Ian Clarke demonstrated a number of extended techniques that he taught to the assembled participants. The group then integrated the techniques with some simple melodies and rhythms to create a spontaneous musical composition. In the concert that followed, with pianist Dianne Frazer, he performed seven of his flute compositions and Taffanel's Fantaisie sur Der Freischut.
- We thank the Friends of Flutes Foundation, Lifetime NYFC member Ardith Bondi, and other anonymous donors for their generous contributions to the Education & Enrichment Program.
---
Our 2013-2014 Concert Season
We were delighted to have these artists perform at our concerts this season. Our final concert at the Baruch Performing Arts Center on April 27 will feature the winners of the New York Flute Club Competition.
---
Be a Member of The New York Flute Club
You can join or renew your membership online and, with membership, be able to access our current newsletters, view our membership directory, edit your profile, and list your upcoming concerts in Member Events. 
---
Our Mission
The New York Flute Club, Inc. is a not-for-profit organization dedicated to the advancement of flute playing and the appreciation of flute music. It provides a common meeting ground for professional, student, and amateur flutists and offers performance opportunities for flutists and composers. We welcome as members musicians and music lovers who are interested in the flute and flute music. Founded in1920 by eminent flutist Georges Barrère, composer Lamar Stringfield, and a group of their associates, The New York Flute Club is the oldest such organization in the United States. Hear Georges Barrère in 1941 playing a transcription of the gamelan piece Lagu Ardja by Colin McPhee.
Upcoming Events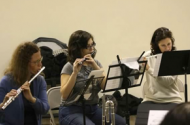 Saturday, March 15, 2014
Ensemble Program
For more info.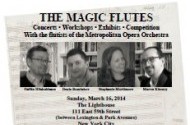 Sunday, March 16, 2014
Flute Fair
For more info.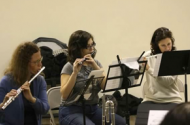 Sunday, April 27, 2014
Ensemble Program
For more info.
View the full calendar of events