---
---
The New York Flute Club sponsors:
Members enjoy:
Free admission and one or more guest tickets to monthly concerts
Ensemble program
Access to extensive member directory
Free listing of members' events in our online and newsletter calendars
Monthly newsletter 
Welcome to the New York Flute Club
---
Dear friends,
We have  an exciting season of in-person and virtual events planned (see below); please join us when you can.  
Missed an earlier event or want to see it again? Videos of most of the Club's events can be found on the Club's YouTube channel. Scroll left or right, or click on the "Videos" tab if you don't immediately see the one you want. Happy viewing!
And there's no time like the present for renewing an existing membership or beginning a new one: you can join or renew online or print and mail the membership form at any time. 
Hope to see you soon!
Jenny Cline
NYFC President
NEXT EVENT: Ebonee Thomas, Dallas Opera flutist
Sunday, December 4 at 5:30 pm concert; 3:30 pm pre-concert masterclass
---
Our 2022-2023 season of concerts and events 
Click here for season details.
C = In-person concert (Sundays, 5:30 pm) • WP = Virtual "I Just Wanna Play!" (Thursdays, 7:00 pm)
FOF = In-person "Flutes Out Front"
| | | |
| --- | --- | --- |
| September 18, 2022* | C | Paolo Taballione, solo flutist, Bavarian State Opera |
| October 15, 2022* | FOF | Sherry Winston, flute (with interviewer Chip Shelton) |
| November 13, 2022* | C | Alison Fierst, associate principal flute, NY Philharmonic |
| November 17, 2022* | WP | Derek A. Johnson, flutist and Kennedy Center executive |
| December 4, 2022* | C | Ebonee Thomas, flutist of the Dallas Opera |
| December 11, 2022 | FOF | David Bertrand, flute |
| January 19, 2023 | WP | Joidy Blanco, flute |
| January 22, 2023* | C | Borealis Wind Quintet with Keith Bonner, flute |
| February 19, 2023* | C | Judith Mendenhall and flutists of the American Ballet Theatre |
| February 2023 | FOF | Karen Joseph of Latin Flute Explosion |
| March 16, 2023 | WP | Irwin Hall, flute |
| March 18, 2023 |   | NY Flute Fair with guest artist Marco Granados |
| April 2023 | FOF | Camille Thurman, flute |
| April 23, 2022* | C | 2023 NYFC Competition Winners |
| May 13, 2023 |   | Annual Meeting and Ensembles Program concert |
* Connection/calendar details available
News and Updates
---
Applications for 2023 competitions now being accepted
YOUNG MUSICIANS CONTEST (ages 8 and under to 18)  •  NYFC COMPETITION (ages 18-27)
---
Do you JUST WANNA PLAY? Announcing the NYFC's "Small Ensembles" Program
A matchmaking service for NYFC members who wish to play in groups of two to four or five players in their own homes. See the December 2021 NYFC Newsletter for details and/or contact Tereasa Payne at tereasapayne@hotmail.com.
---
Diversity, Equity, and Inclusion
The New York Flute Club is looking for individuals to participate in a newly formed Diversity, Equity, and Inclusion Committee. The committee will meet periodically throughout the year and discuss ways to promote DEI within the club. If you are interested in joining (NYFC member or not), please contact Diane Couzens at recording@nyfluteclub.org.
---
Become a Member
The New York Flute Club offers our Ensemble Program, our Education and Enrichment Program, and our annual competitions.
You can join or renew your membership online and, with membership, view our membership directory, edit your profile, and list your upcoming concerts in Member Events. More member benefits are listed on our membership registration page.
---
Our Mission
The New York Flute Club, Inc. is a not-for-profit organization dedicated to the advancement of flute playing and the appreciation of flute music. It provides a common meeting ground for professional, student, and amateur flutists and offers performance opportunities for flutists and composers. We welcome as members musicians and music lovers who are interested in the flute and flute music. Founded in1920 by eminent flutist Georges Barrère, composer Lamar Stringfield, and a group of their associates, The New York Flute Club is the oldest such organization in the United States.
Upcoming Events
Sunday, December 11, 2022
David Bertrand, flute
For more info.
Thursday, January 19, 2023
Joidy Blanco, flute
For more info.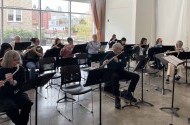 Saturday, January 21, 2023
Ensemble Program
For more info.
View the full calendar of events