NYFC Centennial
The NYFC will celebrate its centennial season in 2019-20. Updates here.
---
The New York Flute Club sponsors:
Members enjoy:
Free admission and one or more guest tickets to monthly concerts
Ensemble program
Access to extensive member directory
Free listing of members' events in our online and newsletter calendars
Monthly newsletter 
Welcome to the New York Flute Club
---
Dear friends,
Happy new year to all! After a terrific fall season, we are now getting ready for our January concert—our first collaboration with New York's Center for Jewish History. Some of our leading New York flutists will present a program of music by New York Jewish composers, some we know well and a few we don't. Columbia University musicologist Tina Frühauf will introduce the concert.
Please watch this website for plans for the New York Flute Fair on March 17, with guest artist Jeffrey Khaner of the Philadelphia Orchestra.
I also want to remind you of some other activities on our calendar:
• The ensemble program meets monthly; the next session is on Sunday, January 27. Click here for more information.
• Our education program is gearing up and welcomes your program suggestions and your time; if you're interested, please contact education co-chairs Julietta Curenton or Amy Appleton.
• Details of the Young Musicians Contest are now posted on the website; please encourage your precollegiate students to participate. The application deadline is January 18, 2019 (early-bird) January 25, 2019 (regular deadline). Thanks to Barbara Siesel for running the contest this year.
• Details of the New York Flute Club Competition are also available. The application deadline is February 15, 2019. Kaoru Hinata is the competition coordinator.
We also need your help in a few key areas: expanding our social media presence, adding some features to our website, and a video project. If you or your students have expertise in any of these areas, please send me an email and join our merry crew.
Finally, I want to announce that I have exceeded my goal of swimming 100 miles for the Kincaid Centennial Challenge. Thanks to those members who have already contributed generously to our centennial fund; we have a long way to go, and those who would like to join the effort—which will support our centennial commission and various centennial concerts and activities—can contribute online (by paypal) or by check.
I look forward to seeing you on January 13.
Nancy Toff, President
---
Click here for postable flyer; click here for season page.
| | | |
| --- | --- | --- |
| October 21, 2018 |   | Harvey Sollberger 80th Birthday Celebration |
| November 11, 2018 |   | Armistice Day Concert: Music of the World War I Era |
| December 16, 2018 |   | Aaron Goldman |
| January 13, 2019 |   | NY Jewish Composers (at Center for Jewish History) |
| March 3, 2019 |   | Karl-Heinz Schütz |
| March 17, 2019 |   | Flute Fair with Jeffrey Khaner (at Columbia University Faculty House) |
| April 28, 2019 |   | Winners of the 2019 NYFC Competition |
---
News and Updates
Centennial commission

We are proud to announce that we have commissioned Gabriela Lena Frank to write a work for flute and piano to commemorate the centennial of the Flute Club. It will be premiered at a gala concert next season and will be published by G. Schirmer. Find more about Ms. Frank here.
---
Become a Member
The New York Flute Club offers our Ensemble Program, our Education Program, and our annual competitions.
You can join or renew your membership online and, with membership, view our membership directory, edit your profile, and list your upcoming concerts in Member Events. More member benefits are listed on our membership registration page.
---
Our Mission
The New York Flute Club, Inc. is a not-for-profit organization dedicated to the advancement of flute playing and the appreciation of flute music. It provides a common meeting ground for professional, student, and amateur flutists and offers performance opportunities for flutists and composers. We welcome as members musicians and music lovers who are interested in the flute and flute music. Founded in1920 by eminent flutist Georges Barrère, composer Lamar Stringfield, and a group of their associates, The New York Flute Club is the oldest such organization in the United States.
Upcoming Events
Sunday, January 27, 2019
Ensemble Program
For more info.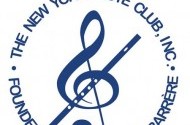 Sunday, February 10, 2019
Young Musicians Contest 2019
For more info.
Saturday, February 23, 2019
Ensemble Program
For more info.
View the full calendar of events
Store

Browse all items