---
---
The New York Flute Club sponsors:
Members enjoy:
Free admission and one or more guest tickets to monthly concerts
Ensemble program
Access to extensive member directory
Free listing of members' events in our online and newsletter calendars
Monthly newsletter 
Welcome to the New York Flute Club
---
November 2021                                                                       
Dear members and friends,
Greetings, flute lovers! By coincidence, and also by intention, November at the Flute Club is host to two important Mexican musicians who have much to teach us of the cultural influences that produce contemporary Mexican music today. On Thursday, November 18 (7:00 pm, on Zoom) we will welcome Miguel Villanueva. In a short lecture-recital; he will speak about Mexican flute repertoire and his collaborations with composers such as Eduardo Angulo, Eugenio Toussaint, Horacio Uribe, and Lucía Álvarez, followed by a Q&A. Mr. Villaneuva is on the faculty of the Escuela Nacional de Música at the National Autonomous University of México (UNAM), the largest university in Latin America. In addition, he is the director of the National Flute Festival and Competition in México.
Then, on Sunday, November 21 (5:30 pm, on Zoom) on our regular concert series we will meet the extraordinary live wire Alhelí Pimienta. One of Mexico's "must-know" flutists, she is unique, an amalgam of Western Hemisphere and European influences, making her one of the most complex and rich performers working today. Her program, entitled Vecinos Americanos (American Neighbors), will include works by composers from Mexico, Cuba, and Venezuela. In fine NY Flute Club tradition, she will give the world premiere of a piece by Ernesto Cabrera and the New York premiere of a sonata by Eduardo Angulo.
Alhelí will be also be leading an interactive educational workshop, entitled Musical Storytelling: A Workshop from the Perspective of a Flutist Without Borders, before her concert on November 21. The workshop will be held synchronously on Zoom at 4:30 pm; participants are encouraged to turn their camera on!
Join Alhelí to explore Latin American classically-inspired music for flute and the stories behind a few of the pieces that she will perform during the concert. She will share about her own story, including what it's like to be an artist of color, a "cultural ambassador," and how she works to connect people across borders through music. Participants are encouraged to share their own stories, too! As an added bonus, a few of the composers of music featured in the concert will be gifting sheet music for their songs to the participants who attend this workshop. The target audience is student flutists at the beginner to intermediate level, but ALL are welcome to attend, students and adults. We hope to see you at this inspiring workshop.
For more information on these events, please see the November NYFC Newsletter. 
Also, please look ahead and mark your calendars for our December dates: 
Thursday, December 16: Etudes with Jin Ta (part of the "I Just Wanna Play!" series)
Sunday, December 19: Sonora Slocum, principal flutist of the Milwaukee Symphony
And if you haven't already renewed your membership for 2021-22, there's no time like the present. You can easily join or renew online or print and mail the membership form. 
See you online!
Jayn Rosenfeld
NYFC President
---
Our 2021-2022 season of concerts and events 
Click here for season details.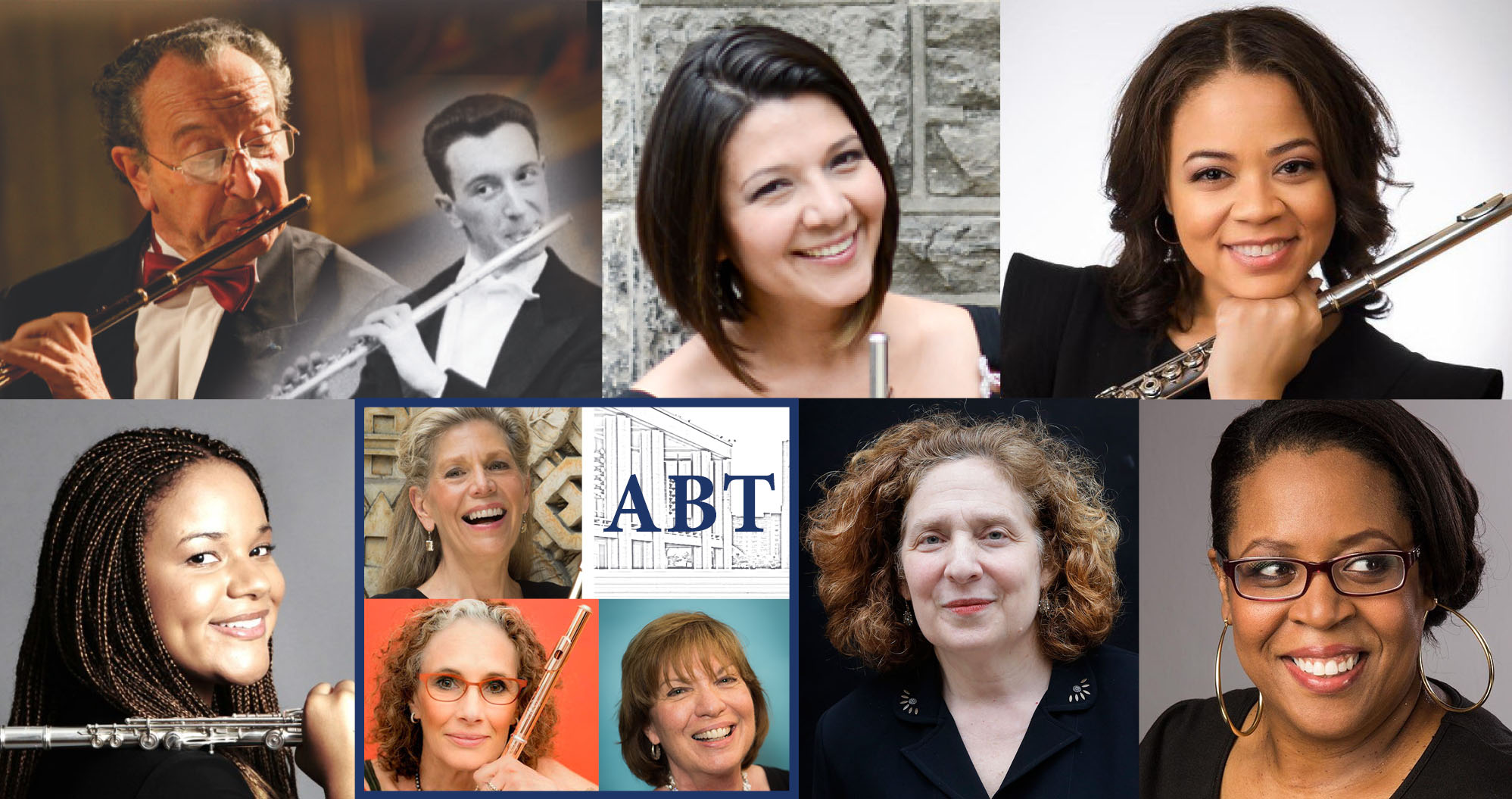 C = Concert (Sundays at 5:30 pm, unless otherwise noted) 

| | | |
| --- | --- | --- |
| October 17, 2021* | C | Maxence Larrieu: Mostly French music from the Joseph Rampal School |
| October 21, 2021* | T | Search and Play with Dotti Anita Taylor and Chip Shelton |
| November 18, 2021 | T | Miguel Villanueva, flute |
| November 21, 2021 | C | Alhelí Pimienta: Mexican/Latin American music |
| December 16, 2021 | T | Études with Jin Ta, flute |
| December 19, 2021 | C | Sonora Slocum, flute |
| January 20, 2022 | T | Irwin Hall, alto flute |
| January 23, 2022 | C | Julietta Curenton, flute |
| February 2022 |   | TBA (ABT Flutists has been rescheduled...) |
| February 17, 2022 | T | Tango! with Marcelo Alvarez |
| March 12, 2022 | C | Massed flutes will perform Julia Wolfe's NFA-commisisoned Oxygen |
| March 17, 2022 | T | Hawk Henries, Eastern Woodlands flutes |
| April 23, 2022 |   | Flute Fair 2022 ("I Just Wanna Play") with guest artist Valerie Coleman |
| May 2022 | C | 2022 NYFC Competition winners |
| May 2022 |   | Annual meeting and Ensemble Program concert |
* Connection details available
---
News and Updates
---
Announcing the 2022 Young Musicians Contest
Caroline Sonett-Assor, Coordinator
The Young Musicians Contest is open to four age groups spanning ages 8 to 18. This year's contest requires video entries and an in-person Flute Fair performance by the winners. New for this year: an additional instrument category—non-Western flutes. Videos due February 13, 2022. Details here.
---
Announcing the 2022 New York Flute Club Competition
Kaoru Hinata, Coordinator
Flutists ages 18-27 are eligible to compete in the annual New York Flute Club Competition. Preliminary and final rounds will be held on April 23, 2022, with the final round presented at the New York Flute Fair that day. Each prize winner wins a cash honorarium and will perform on the Flute Club's concert series in May. The application deadline is March 25, 2022.
---
Diversity, Equity, and Inclusion
The New York Flute Club is looking for individuals to participate in a newly formed Diversity, Equity, and Inclusion Committee. The committee will meet periodically throughout the year and discuss ways to promote DEI within the club. If you are interested in joining (NYFC member or not), please contact Nicole Schroeder Raimato at nicole.schro@gmail.com.
---
Flute Fair 2021: A Virtual Toolbox INFO  PROGRAM BOOK
---
Become a Member
The New York Flute Club offers our Ensemble Program, our Education and Enrichment Program, and our annual competitions.
You can join or renew your membership online and, with membership, view our membership directory, edit your profile, and list your upcoming concerts in Member Events. More member benefits are listed on our membership registration page.
---
Our Mission
The New York Flute Club, Inc. is a not-for-profit organization dedicated to the advancement of flute playing and the appreciation of flute music. It provides a common meeting ground for professional, student, and amateur flutists and offers performance opportunities for flutists and composers. We welcome as members musicians and music lovers who are interested in the flute and flute music. Founded in1920 by eminent flutist Georges Barrère, composer Lamar Stringfield, and a group of their associates, The New York Flute Club is the oldest such organization in the United States.
Upcoming Events
Thursday, December 16, 2021
Etudes with Jin Ta
For more info.
Saturday, December 18, 2021
Ensembles Program
For more info.
Sunday, December 19, 2021
Sonora Slocum, flute
For more info.
View the full calendar of events