Ensemble Program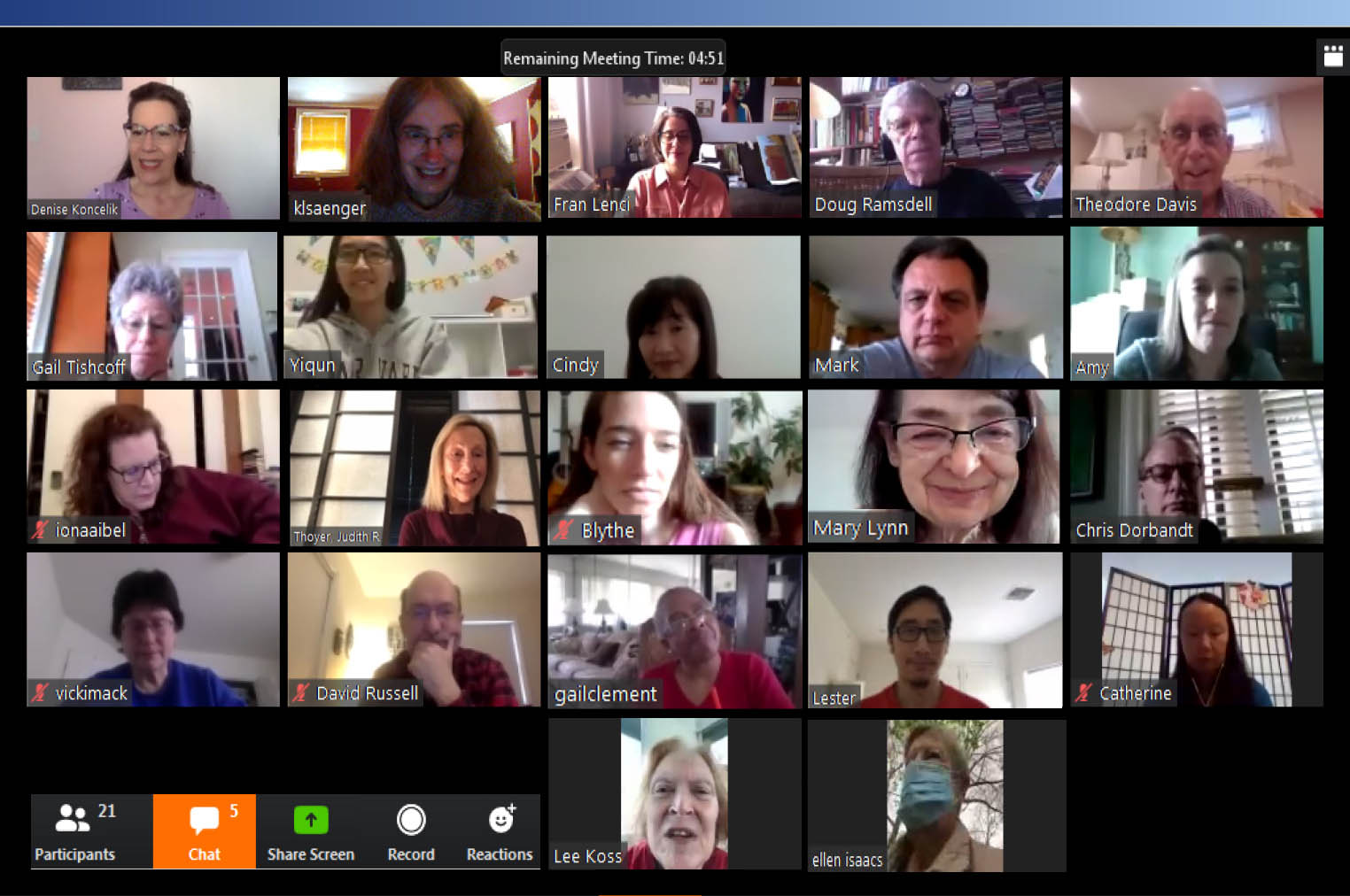 Participants in the ensemble program's Zoom meeting of April 25, 2020
The NYFC's ensemble program USUALLY consists of scheduled, informal get-togethers of Club members who meet for the pleasure of playing in a flute choir. The approximately monthly meetings (typically on weekend afternoons in a studio space in midtown Manhattan) start in September and end with a concert at the annual meeting in May. We average about 25 players per month; ability level ranges from amateur/intermediate to professional. 
No audition required to attend. The only requirement to participate is that you be a member in good standing of the Club for the current season (2020-21). The meeting schedule is posted below. 
Please email Denise Koncelik and Mark Vickers at ensembles@nyfluteclub.org if you would like to be involved in the program (ideally after making sure your membership is up-to-date). Please include your name, email address, and instrument (C flute, piccolo, alto flute, bass flute, contrabass).
Photos and reports of the NYFC Ensemble's activities in past seasons, starting with 2016-17, may be found here.
NEW! Video updates from ensembles participants
In place of the usual updates posted on this page after each rehearsal, we will be posting links to videos from ensembles participants showing what they have been up to musically. If you'd like to contribute, send the link to ensembles@nyfluteclub.org; be sure to include the piece name and its composer, and, if possible a few words about why you selected the piece and what software was used to record it. The inaugural video is from Yiqun Zhao, who plays all the flute parts of A Flutist's Happy Birthday (arr. Ervin Monroe). 
---
Meeting Schedule for the 2020-21 Season 
| | | | |
| --- | --- | --- | --- |
| Date | Time | Location (if not Studios 353) | Event type |
| Saturday, October 17, 2020 | 2:00 - 3:00 pm | Zoom | Virtual meet-up |
|   |   |   |   |
---
Video update from Yiqun Zhao, posted February 24, 2021
Happy Birthday for flute ensemble arranged by Ervin Monroe and played by Yiqun Zhao. 
The work includes short excerpts from famous pieces, interwoven into the Happy Birthday theme. It was made using Acapella, with piccolo replaced by another flute. Yiqun Zhao created it for a talent show run by the company where she works.
---
Our October 17, 2020 Virtual Meet-up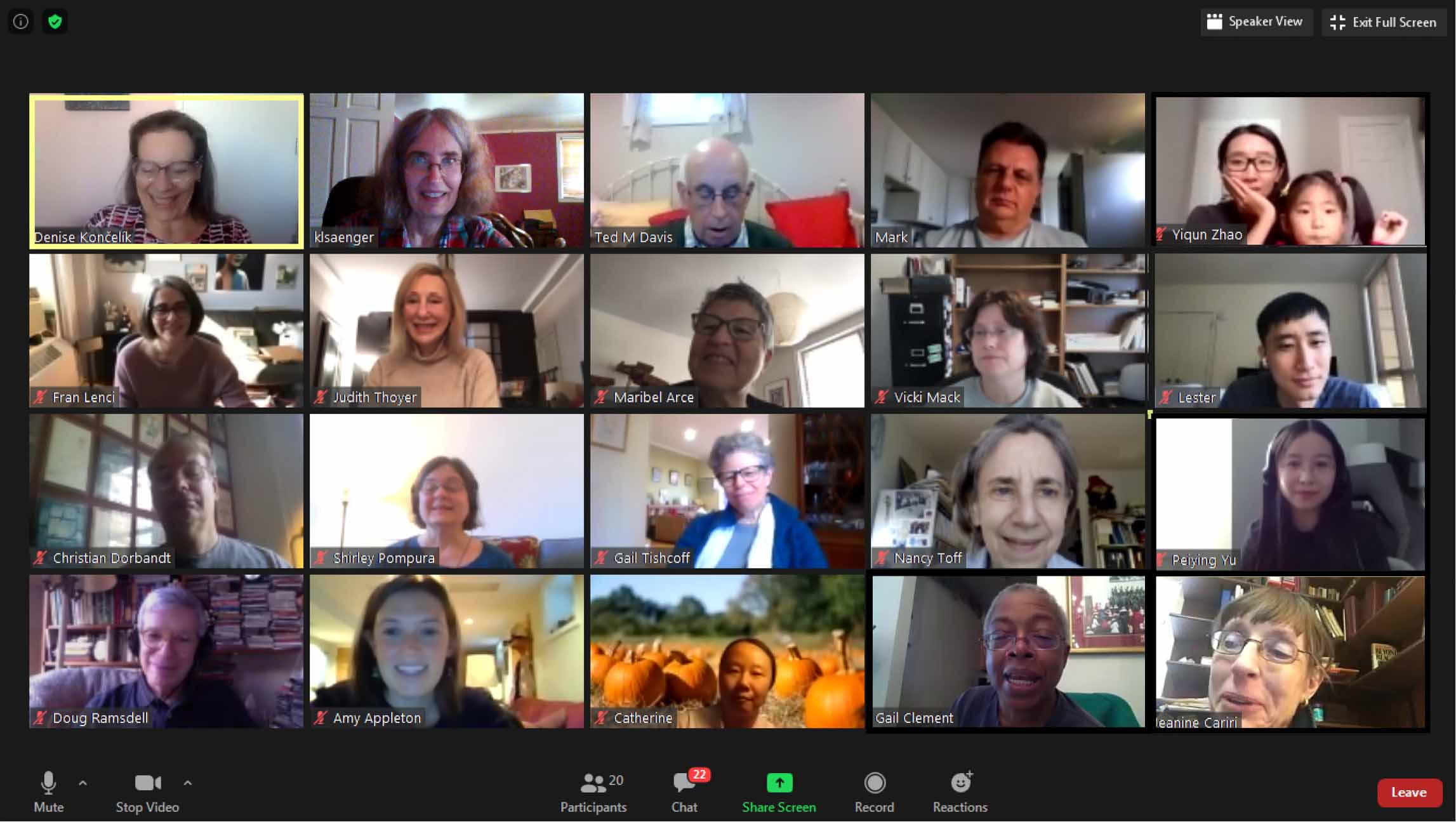 Participants in the ensemble program's Zoom meeting of October 17, 2020
     Twenty-one NYFC flutists (17 returning and 4 new) convened via Zoom for a virtual meet-up on Saturday, October 17, at 2 pm, calling in from locations in New York, New Jersey, Connecticut, and Pennsylvania. Organized by co-directors Denise Koncelik and Mark Vickers (and moderated by Denise), each participant let the group know what they had been up to since our last Zoom meeting in May. 
     Denise's choice for the best takeaway phrase of the day was "Technology Fatigue!" That said, we learned that several attendees had participated in outdoor concerts and that three group members had changed jobs. People recounted their experiences with various methods of playing in virtual ensembles, including Music Minus One arrangements and apps such as Tomplay (tomplay.com). Most of those present expressed interest in the possibility of putting together a NYFC Ensemble virtual flute choir performance for the 2021 NY Flute Fair, though many details have yet to be worked out.
---
---