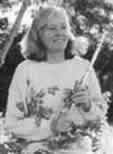 Eleanor Lawrence
NYFC president 1973-1976, 1979-1982, 1986-1989
Eleanor Lawrence (1936-2001) was an active freelance flutist and teacher in New York. She studied flute with James Pappoutsakis while an undergraduate at Radcliffe College, where she majored in political science, and at the New England Conservatory, where she earned a master's degree in flute. She also studied with William Kincaid, Harold Bennett, and Marcel Moyse. Lawrence moved to New York in the early 1960s and taught in the preparatory division of the Manhattan School of Music. For many years she regularly played with New York orchestras, including the American Symphony under Stokowski, the New York Philharmonic, the Brooklyn Philharmonic, and most frequently with the Metropolitan Opera orchestra. She also performed as soloist with the Boston Pops and at Alice Tully Hall.
In 1968 she founded the Monomoy Chamber Ensemble, which had an annual concert series in the Monomoy Theatre in Chatham, Massachusetts. In 1999, renamed Monomoy Music, the ensemble launched a New York concert series in Weill Recital Hall. Her master classes in flute, which she held each summer on the Cape, were attended by flutists from all over the United States and abroad.
Ernst von Dohnanyi wrote Passacaglia for solo flute and the Aria for flute and piano for Ms. Lawrence; she premiered them at Carnegie Recital Hall in New York in 1969 and later recorded them. Eleanor Lawrence's other recordings include French Music for Voice and Flute (with Bethany Beardslee), The Complete Flute Works of Paul Hindemith, and Music for Flute and Piano, all on the Musical Heritage Society label. Her last CD, Flute Favorites, includes a selection of short pieces from the teaching repertoire. She also produced a videotape on which she teaches Moyse's 24 Petites Etudes Mélodiques. A founder and former president of the Marcel Moyse Society, Ms. Lawrence also served as its president. From 1977 to 1984 she was the editor of the NFA Newsletter, for which she conducted interviews with many prominent flutists.

Back to Past Presidents