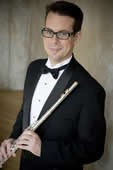 John McMurtery
NYFC President 2011-2012
Flutist John McMurtery enjoys a multi-faceted career as a soloist, ensemble performer, orchestral musician and teacher. 2002 marked McMurtery's debut at Carnegie Hall in New York City with the eclectic ensemble UpTown Flutes. Mr. McMurtery has given countless premieres by renowned composers such as Sean Hickey, Jackson Hill, and Edward Taylor.
As an orchestral performer, McMurtery is currently section flutist with the New York City Opera orchestra. He is a frequent substitute flutist with the Metropolitan Opera Orchestra and the New Jersey Symphony Orchestra. During the summer, he tours Japan and Taiwan with the New York Symphonic Ensemble. He regularly performs with Luna Nova and the Society for Chromatic Art.
Prior to his appointment as visiting Professor of Flute at the University of Nevada – Las Vegas for the 2006-07 academic year, Mr. McMurtery served on the music history and music theory faculty at the Westminster Conservatory young artist program as well as at the Drew University Summer Music faculty.
Mr. McMurtery earned a Doctorate of Musical Arts degree from The Juilliard School in 2005, where he studied with Jeanne Baxtresser and Julius Baker. He also holds a Master of Music degree from Rutgers University where he studied with Bart Feller, and Bachelor of Music degree from Central Washington University, under the guidance of Dr. Hal Ott.

Back to Past Presidents