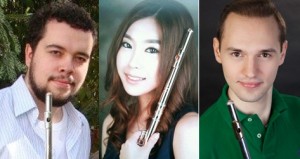 Date & Time
Sunday, April 26, 2015 - 5:30pm
Location
Engelman Recital Hall
Baruch Performing Arts Center
55 Lexington Avenue
  (entrance on E. 25th Street)
New York, New York
2015 NYFC Competition Winners Concert
Giorgio Consolati, 3rd prize, flute; Xiaohui Yang, piano [Video performance]
  Rondo in D Major, K. Anh. 184
  Caprice, Op. 1, No. 5
Julie Lee, 2nd prize, flute; Haodong Wu, piano  
  Barcarola et Scherzo, Op. 4
  Two Songs
David Ordovsky, 1st prize, flute;  Haodong Wu, piano 
  Sonatine (1935)
  Fantasia No. 10 in F-sharp minor, TWV  
  40:11
  Syrinx
  Sonatina (1948)
W.A. Mozart (1756–1791)
Nicolò Paganini (1782–1840)
Alfredo Casella (1833–1947)
Martin Kennedy (b. 1978)
Walter Gieseking (1895–1956)
Georg Philipp Telemann (1681–1767)

Claude Debussy (1862–1918)
Eldin Burton (1913–1981)
Program is subject to change.
After the concert, there will be a moderated chat with the winners about coming from another country to study in the USA.
Phil Unger of the NY Flute Center is thanked for funding 2015 NYFC Competition's first prize.
---
Our Winners  
1st Place
David Ordovsky was born in 1989 in Kiev, Ukraine and grew up in Saint Petersburg, Russia. He began flute studies at age five with Alexander Kiskachi, and moved to California at age 17 to attend Idyllwild Arts Academy as a scholarship student of Sara Andon. He earned a bachelor's degree from Mannes College the New School for Music in 2013, studying under Judith Mendenhall, and is now pursuing a master's degree at the same institution. Mr. Ordovsky has been a participant and prize winner in various competitions and festivals in Russia, Israel, Bulgaria, Germany, and the Netherlands, and made his New York concerto debut in November 2014 with a performance of the Nielsen concerto with the Mannes Orchestera.
2nd Prize
Born in Vancouver, Canada in 1991 and raised in Seoul, Korea, Julie Lee received a bachelor of music degree at Mannes College the New School for Music, studying under Keith Underwood. She is a graduate of the New England Conservatory Preparatory School and the Walnut Hill School for the Arts, and a former student of Judy Grant, Nancy Stagnitta, and So-Young Lee. Ms. Lee has won first and second prizes in major competitions in Korea,  participated in the Orford Music Festival and Tanglewood Institute, and was a Young Artist at the Boston Flute Academy. Julie is currently working as a graduate assistant at Carnegie Mellon University, where she is pursuing a master of music degree as a student of Alberto Almarza and Jeanne Baxtresser.
3rd Prize
Giorgio Consolati was born in 1993. He graduated from the G. Verdi Conservatory of Milan in 2012 and is currently studying at the Juilliard School under the guidance of Carol Wincenc. Mr. Consolati regularly plays in the Juilliard Orchestra and has performed as principal flute in venues such as Carnegie Hall, Alice Tully Hall, and the Peter Jay Sharp Theater. He has won several competitions in Italy, including third prize (first not assigned) at the 2013 Leonardo De Lorenzo International Competition, and attended masterclasses with Sir James Galway, Ransom Wilson, Maxence Larrieu, and Patrick Gallois. A career highlight will be his April 19 solo performance in Debussy's Afternoon of a Faun with conductor David Robertson at
                                    Avery Fisher Hall.

Back to Calendar