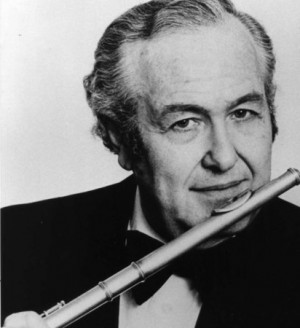 Date & Time
Sunday, October 18, 2015 - 5:30pm
Location
Engelman Recital Hall
Baruch Performing Arts Center
55 Lexington Avenue
  (entrance on E. 25th Street)
New York, New York
A Centennial Tribute to Julius Baker with Mimi Stillman and Bart Feller
 Charles Abramovic, piano
Trio Sonata in G Major for Flute, Violin, and Continuo, BWV 1038
AfterBach for Two Flutes *
Badinerie Squared for Two Flutes *
Aninventionersary for Two Flutes *
Nocturne and Allegro Scherzando
     Stillman, Abramovic
Cantabile and Presto
    Feller, Abromovic
Gilt for Two Flutes and Piano *
Reconciliation for Flute and Alto Flute *
Invention after BWV 1013 for Two Flutes *
Nearly Complementary Invention with Quasi-Canonized Bach for Two Flutes and Piano *
Two Inventions for Two Flutes and Piano *
Trio Sonata in G Major for Two Flutes and Continuo, BWV 1039
* New York premiere
J.S. Bach (1685-1750)

Andrea Clearfield (b. 1960)
James Primosch (b. 1956)
Robert Maggio (b. 1964)
Philippe Gaubert (1879-1941)
 
Georges Enesco (1881-1955)
 
Jan Krzywicki b. (1948)
Richard Danielpour (b. 1956)
Daniel Dorff (b. 1956)
Jeremy Gill (b. 1975)
 

Heidi Jacob (b. 1954)
J.S. Bach (1685-1750)
Program subject to change.
Mimi Stillman designed this program to honor her teacher and mentor Julius Baker on the centennial of his birth (September 23, 1915), celebrating his legacy through the works of J.S. Bach and the premiere performances of eight new "Inventions" reflecting on Bach and Baker. She asked a group of eight distin-guished composers, to write two- to three-minute works inspired by Bach, whose works were central to Julius Baker's playing and teaching.
---
Admission: Free to NYFC members, $25 for non-members, $15 for students and seniors (65+) at the door.
---
100th Anniversary Tribute to Julius Baker
Julius Baker (1915 – 2003) was the principal flutist of the New York Philharmonic for 18 years and the most prominent American flutist of his generation. Baker was known for the bright tone and rhythmic precision he brought to a repertory that ranged from Baroque works -- he particularly favored Bach -- to contemporary scores. As an orchestral player, he was principal flutist in several of the best orchestras in the United States.
As a performer and a teacher, Baker was an institution among flutists. Faced with a comparatively small native repertory, he made transcriptions of works originally written for the violin, piano and other instruments, many of which have been taken up by other flutists. Quite a few famous players -- among them Paula Robison, Jeffrey Khaner, Eugenia Zukerman, Gary Schocker and Jeanne Baxtresser -- were among his students. Baker was principal flutist of the Chicago Symphony from 1951 to 1953.  He joined the New York Philharmonic in 1965 and performed with the orchestra through the directorships of Leonard Bernstein, Pierre Boulez and Zubin Mehta.
---
Mimi Stillman
Mimi Stillman has appeared as soloist with the Philadelphia Orchestra, Bach Collegium Stuttgart, and Orquesta Sinfónica Carlos Chávez and performed at Carnegie Hall, the Kennedy Center, Verbier Festival, Bard College, and La Jolla Chamber Music Society. She is a winner of the Young Concert Artists competition and founder and artistic director of the Dolce Suono Ensemble. At 12, she was the youngest wind player ever admitted to the Curtis Institute, where she studied with Julius Baker and Jeffrey Khaner. She has recorded for the EMI, Innova, Albany, Dolce Suono, and DTR labels, performed with Paquito D'Rivera, and recorded a film soundtrack for Kevin Bacon. Ms. Stillman holds an M.A. in history from the University of Pennsylvania. She has given masterclasses at a variety of universities and flute societies.
Bart Feller
Bart Feller is principal flutist of the New Jersey Symphony, New York City Opera, and Santa Fe Opera Orchestra. He has appeared with the New York Philharmonic, Orpheus Chamber Orchestra, Bargemusic, and the Chamber Music Society of Lincoln Center. He has been a soloist with the Philadelphia Orchestra, St. Paul Chamber Orchestra, and the Jupiter Symphony. Mr. Feller is a graduate of the Curtis Institute of Music, where his teachers included Julius Baker and John Krell. He has participated in the Santa Fe Chamber Music Festival, Marlboro Music Festival, OK Mozart International Festival, and Colorado College Chamber Music Festival, among  others. Mr. Feller is professor of flute at Mason Gross School of the Arts, Rutgers University and teaches in the Pre-College Division of the Juilliard School.
Charles Abramovic
Charles Abramovic performs internationally as soloist, chamber musician, and collaborator with leading musicians such as Midori, Viktoria Mullova, and Sarah Chang. As a recitalist he has performed throughout the United States and Europe. He made his orchestral debut at age 14 with the Pittsburgh Symphony and has also soloed with the Baltimore Symphony, Colorado Philharmonic, Florida Phil-harmonic, and other orchestras. A composer as well as interpreter of new music, he is a founding member of the Dolce Suono Trio. Mr. Abramovic has recorded for the EMI, Bridge, Koch, Avie, and DTR labels. He is professor of keyboard studies at Temple University and a graduate of the Curtis Institute, Peabody Conservatory, and Temple University.

Back to Calendar